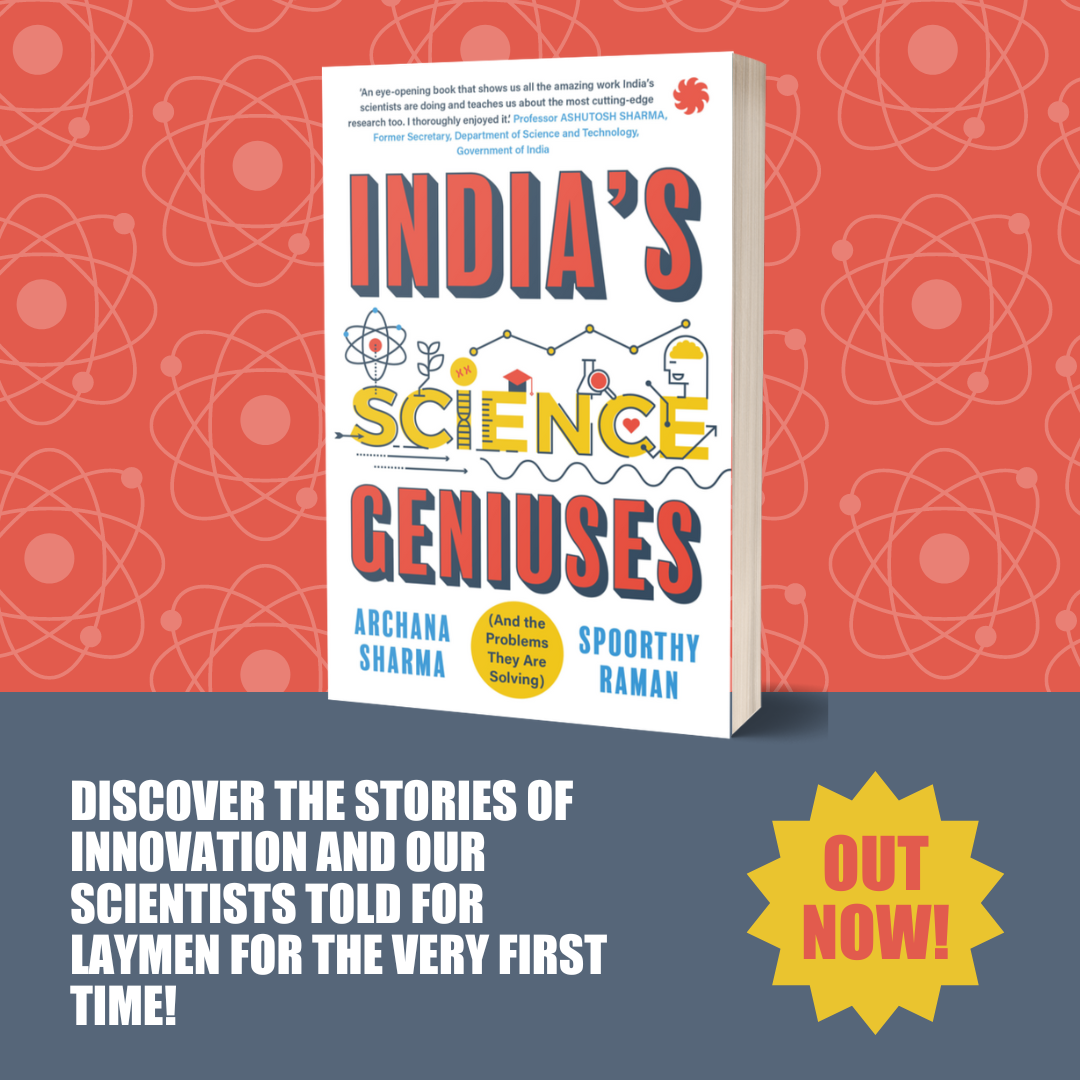 India has an amazing community of scientists doing cutting-edge research across disciples. This book, co-authored with Archana Sharma, explores the work of 30 such scientists working in Nobel-winning fields of science, traces their journey and explains the importance of their work to the world. Written for the lay reader, 
India's Science Geniuses 
makes the exciting world of Indian science come vividly alive. 
Grab your copyon
Amazon
 today! 
"An eye-opening book that shows us all the amazing work India's scientists are doing and teaches us about the most cutting-edge research too. I thoroughly enjoyed it."
- Prof Ashutosh Sharma, Former Secretary, Department of Science and Technology, Government of India


"A remarkable insight into some of the stellar work being done by Indian scientists across disciplines, from some of the top experts in the country. The lucid language makes for excellent reading."
- Hasan Jawaid Khan, National Institute of Science Communication and Policy Research

"This is a very valuable book that will teach students (and their parents) about the intellectual pleasure that lies in following your dreams and your curiosity"
- Professor Dinesh K. Srivastava, Homi Bhabha Chair Professor, National Institute of Advanced Studies

"Written in such a simple style that even a layman would have no difficulty in understanding. Highly recommended!."
- Sudhanshu Mani, creator of Train 18 (Vande Bharat Express)

"Found it to be a really gripping compilation of amazing research progressing in India covering diverse topics from DNA to Milkyway images, the origin of the Universe, and emotions decoded with chemistry!!!"
- US on Amazon


"Ordered for my younger sister. She loved it as it deliver rich scientific information in an easy to understand manner"
- Yasir Hussain on Amazon

"Offers a great insight into the kind of research our scientists are doing and everything has been explained in layman's terms The ideas have been succinctly put and keeps you rivetted. Loved reading it and proud of Indian geniuses."
- Niharika on Amazon

"Brilliantly written and curated text that highlights the works of Indian science. The text also elucidates key ideas that are worth looking out for! An extraordinary achievement!"
- Pranav Sharma on Amazon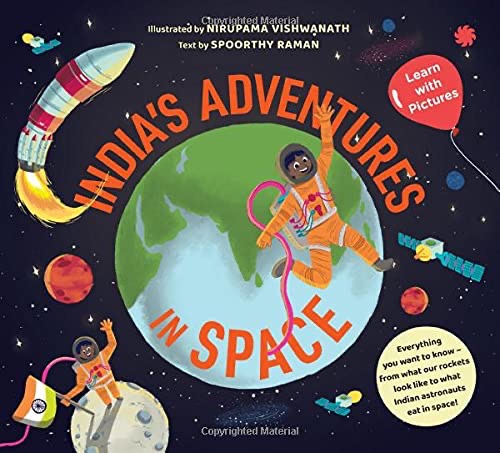 India has done so much in space! We've sent out satellites and probes and launched super successful missions to the Moon and Mars. This illustrated children's book explores our travels in space, gives an inside look of a space capsule, brings to life an ISRO rocket blast off and introduces Vyommitra, the talking robot ready to fly to space. 
Grab your copy on  Amazon or Flipkart!
This book was nominated for the American Institute for Aeronautics and Astronautics (AIAA) STEM K-12 Outreach Committee's Children's Literature Award.
"The book is informative and attractive. A superb book for kids. Must buy!"
- Aparna on Amazon


"This is a high quality boardbook, arrived with a plastic wrap, so the corners were not chuffed. I collect science books by Indian authors, and meant to just check this out. But was soon charmed into reading it and decided to keep it and get several copies for gifting. Great content, simple language, delightful catchy illustrations."
- Beena on Amazon

"Children should know about Indian scientists & space science. This book is very suitable for gifting."
- Malathi on Amazon

"You must get this one for your kids -- they will love it!"
- Momspresso